BRONZE NAME TABLETS FOR ST PETERS HEROES MEMORIAL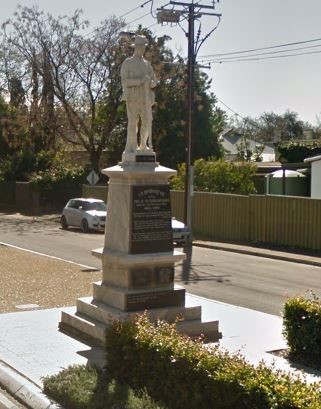 Last year the St Peters Residents Association applied for a grant in the 2017-18 round of funding from the Veterans SA - Anzac Day Commemoration Fund for the research, preparation and fixing of bronze tablets containing the names of the fallen Great War servicemen from the then Town of St Peters onto the St Peters Heroes Memorial in St Peters Street. The memorial, erected in 1922 by citizens of the former Town of St Peters, is one of the few Great War memorials that does not feature the names of the fallen.
We were delighted to have been awarded a $4,000 grant towards the anticipated $8,000 cost of the project. We were particularly pleased to receive the grant, as, of the 63 applications in this round of funding, only 37 were successful.
As the grant was less than the amount needed to complete the project we sought additional sources of funding from local businesses, and were very pleased when Oren Klemich & Judy Morris of Klemich Real Estate and Otto Timber provided sponsorship and support. Any additional donations towards the project would also be appreciated. If you would like to assist then please send an email to spra@senet.com.au and we will advise the bank account details.
The names of about 146 men from the suburbs of Hackney, College Park, East Adelaide, St Peters, Stepney, Evandale and Maylands have been identified, and will be named on the tablets. SPRA would like to contact any relatives of these men, so that they can be involved in the re-dedication of the Memorial and to check the family details.
See the link for the NAMES and details.
It is intended that the St Peters Heroes Memorial with the name tablets will be re-dedicated around the Centenary Remembrance Day in November 2018.
See the link for the details of the Grant Application and more detail on the thinking behind the project.
If you would like more information please call David Cree 0418 622 163 or email spra@senet.com.au
.
Channel 7 News Sunday 29 July 2018 https://www.facebook.com/7NewsAdelaide/videos/2067067656657212/
.
See the Messenger 'Eastern Courier' article in the April 11th 2018 Edition.
SETTING SACRIFICE IN STONE
http://www.adelaidenow.com.au/messenger/east-hills/names-of-world-war-i-...